Welcome to Tools For Self Reliance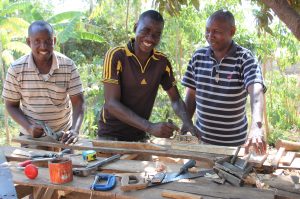 TFSR Cymru aims to improve the lives of African artisans & families by providing them with quality refurbished recycled hand tools & training.
TOOLS FOR SELF RELIANCE groups collect old and unwanted hand tools and sewing machines from all over the UK.  We clean repair and sharpen them, and send tool kits and sewing machines to grass roots community groups in several African countries.  At present TFSR Cymru concentrates its overseas efforts in Tanzania.
We mostly fund our organisation by selling high quality refurbished garden tools here in Crickhowell, South Wales.  We also specialise in edge tools: billhook, felling axe, slasher and hatchet, by some of the fine old makers of such as Brades, Gilpin, Nash, Whitehouse, Elwell and Parkes. We also stock beautifully reconditioned garden spades, forks, rakes, hoes, sickles, scythes, shears and countless other tools such as carving chisels.
Gifts in kind to help our work in Tanzania
Tony
Our lovingly refurbished tools will be available to buy at: 29/30th September, Malvern Autumn Show, WR13 6NW, 9 - 6pm 30th Sep, Indian Summer Day, Lam Rim Buddhist Centre, Nr Raglan, NP15 8LE, 11 - [...]
Rich
. . This is really a big push to the Government Initiative!