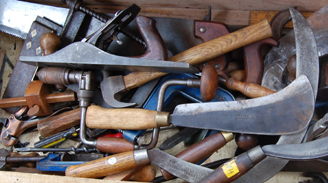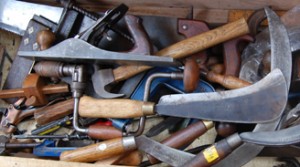 TOOLS FOR SELF RELIANCE CYMRU collects old and unwanted hand tools from all over Wales.  We clean, repair and sharpen them, and send tool kits to grass roots community groups in several African countries.  At present we concentrate our efforts on Tanzania.
We raise most of our funds to do this by selling high quality refurbished tools here in Wales.  We specialise in selling edge tools: billhook, felling axe, slasher and hand axe  – made by the fine tool makers of yesteryear such as Brades, Gilpin, Nash, Whitehouse, Elwell and Parkes.
We also sell quality garden spades and forks by Elwell, Nash and Parkes, also  rakes, hoes, sickles and a multitude of other tools that have all been donated to us for repair.
Click here to find out more about us
View and Buy Tools online
Please – Make a Donation