TOO MUCH OF MY MONEY HAS GONE TO FUNDIS!  NOW I CAN FIX ANY PROBLEM IN MY MACHINE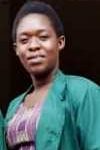 I am called Pendo Mchele. I live in Nyakato village in Geita region. I am 30 years old and a mother of one child. Currently I am still staying with my parents and my father Jackson, as you know, is also one of the beneficiaries of your project. He received a big box full of carpentry tools two years ago. I am a tailor for two years now although I was not formally trained anywhere. It was my uncle living in Geita town who taught me tailoring. But that does not mean I have never gone to school. I completed secondary education in Mwanza and I also undertook a computer course there.
This training is both useful and interesting. I used to know only one type of Sewing machine– the Chinese butterfly. But now I am really overwhelmed by seeing many other kinds of machines, some look like big radios! Here I am learning a lot. The big challenge I had before was to detect what is the problem when a machine stops working properly. My machines are old and they always have problems. I have been spending a lot of money taking them to local fundis who are also very far away – at Kasamwa township about 15 kilometres from my home. I use my father's bicycle as a means of transport and the trips are very tiring. When I listen to Athumani (the trainer) I recognize that those fundis were taking money from me even for some very simple things. Now I am happy I will able to fix most of the problems when I go back home and since there are many tailors at my home place, I am sure they will really benefit from me. Of course, the skills am getting here mean I will have additional means of income.
I am really impressed by the way the trainer is doing his job. He is very competent and supportive. And, everything in this training is generally very good – learning materials, tools, food, punctuality, discipline among trainees, accommodation etc.
Thanks for TFSR Cymru for coming up with this idea and supporting its implementation. I hope you will not end your support after the training and you will continue helping us when we face challenges as we work in our respective localities. I am also particularly happy with the arrangement of providing us with five machines latter.
Please greet your colleagues from Wales who visited us in Nyakato. I wish to see them again. Thank you so much.