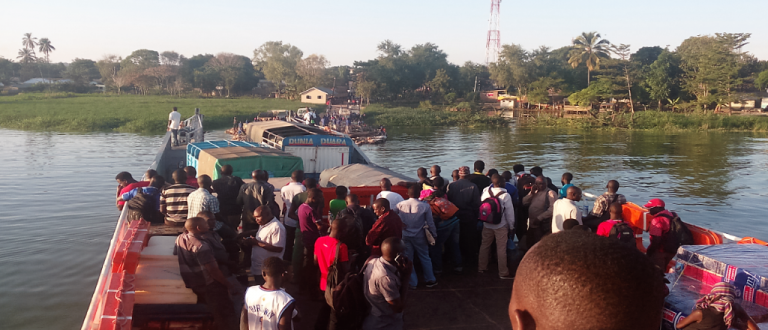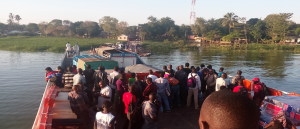 Arriving by boat at Ukerewe Island in Lake Victoria.  Namagondo is about half an hour's drive from here.
Namagondo is one of two villages chosen for our new project in Tanzania.  In January this year we visited this village, finding out what the artisan groups really needed to improve their businesses and their lives.  We employed an independent Tanzanian project advisor to spend a week asking every fundi in the village, what tools they were short of, what training they needed and how we could work with them to really improve lives in this very rural community.
Since then Saidi, John and Viviana have been busy refurbishing tools in our Mwanza workshop. This is jointly run by ourselves and SIDO our partner in Tanzania; the Small Industries Development Organisation.
The shelter of Kazamoyo Bicycle Repair Group,  servicing motor bikes after receiving many tools from TFSR Cymru.  The group chairman Mr. Dotto Christopher said  ''They can service many bicycles and Motor cycles per day now after receiving efficient tools from TFSR. Our customers have increased twice than before''.
Last month they delivered 12 tool kits to Namagondo; that's 670 tools for carpenters, blacksmiths, leather workers, bicycle repairers, builders and mechanics groups. And this month six women will be travelling to Mwanza for training in sewing machine use and maintenance. After two weeks they will each return to Namagondo with a treadle sewing machine.
Meanwhile in Crickhowell our sewing team have been busy refurbishing under the guidance of workshop co-ordinator Alec Rix, and in May we sent them 20 machines in our last container. All going well they should arrive in Mwanza in July and be despatched to Namagondo stright away.
Saidi and John will be organising training for blacksmiths and carpenters later this month, and SIDO will be providing business training to all artisan groups.  More news to follow soon.
 See photos of Kiabakari and others from our visit in January
Short Note about Namagondo and Ukerewe in general
Ukerewe is included in the District of Mwanza City; it is the largest island in Lake Victoria with an area of approximately 530 km², population of 345,147 as according to National censer of 2012. It is situated 45 km (25 nautical miles / 3½ hours) north of Mwanza to which it is linked by ferry, but a shorter vehicle ferry crossing of only 3.8 km also links the island across the Rugezi Channel to a rough road on the eastern lake shore, which runs to Kibara of Bunda Mara.
Namagondo ward comprises of three villages namely Namagondo, Mkasika and Malegea, It is among 24 wards of Ukerewe District, it is about 32Km from Nansio (the town center of Ukerewe Disrict). The ward has a population of 4,921people.