Sewing Machines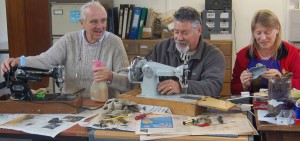 For the past eight years we have been running a regular sewing machine repair workshop in Crickhowell.  This has now moved to a new location on the Glausk Estate.   Over 1000 machines have been restored to their former glory to date; hand and treadle machines, plus electric zig zag and embroidery machines.
Alec our new sewing machine co-ordinator has changed the days we operate to Wednesdays and Thursdays.    There is plenty of space for more volunteers to join our sewing team, to help refurbish machines to be sent to women's groups in Tanzania.
The Amani Tailoring Group in Tanga Region, is one of the many groups that have received sewing machines.  Jennifer Clements is one of five trainees with the group.
She will stay for two years and then return to her village – where she will need another sewing machine if she is to make use of her new skills.  There is plenty of demand for these machines.