Our Overseas Partners
TFSR Cymru currently supports working communities in Tanzania.
Each kit of tools makes a real difference to the group that receives it
However tools are needed in their millions, so we give special support to the tool-makers – Africa's Blacksmiths
The Small Industries Development Organisation (SIDO)
We work closely with the Mwanza Regional Office of SIDO – in north-west Tanzania.  Their Artisan Support Programme identifies the groups of artisans in Lake Zone who are in need of tools, which are then supplied by the Mwanza workshop.
We also send tools via SIDO to Tanga and Singida Regions from our Crickhowell workshop.
---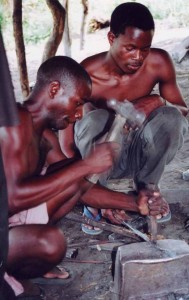 Blacksmithing is one of Africa's oldest skills, but it was undermined as more and more cheap metal implements flooded the local markets during the colonial era. Today with the value of African currencies continually falling, most farmers cannot afford to buy imported tools, so they are once again dependent on the local blacksmiths.
Not only do the smiths make the agricultural tools that are essential for a rural community, they also sharpen and mend broken tools, utensils and bicycles.
See "Fair Trade Tools page" for bill hooks made by Ikulwa
---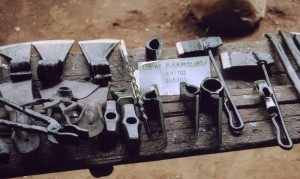 Tools made by the Itahwa Blacksmiths Group from Bukoba – Kagera Region.
They are text-book copies of tools they were taught to make many years ago in the TFSR Toolmaking Programme.
These side axes are now made for the UK market, along with other tools now available as Fair Trade Tools.
---
Joseph Mashinji
It was with great sadness that we learnt of the death of Joseph in May 2004. He was leader of the Nyamililo Toolmakers Group, a great and innovative blacksmith, and inspired a lot of the work that we are now supporting in Lake Zone.
He was also the chairman of LAZOA – The Lake Zone Artisans Association which is a networking organisation that supports various artisan groups. They are assisted by SIDO Mwanza with tool kits from us,  training to advance their techniques, and also micro credit loans.
We currently sponsor the Joseph Mashinji Memorial Prize in memory of Joseph.  This is awarded to the most innovative blacksmith group every year at the Lake Zone Exhibition.
Supporting Local Tool Making
Some LAZOA blacksmiths groups are now making hand tools for us to include in tool kits we send to other artisans.
The quality of these tools is judged by our Mwanza Workshop. This means that we are sending less tools in each kit so we can assist a greater number of artisan groups.
---
TFSR works in partnership with organisations in Tanzania and Sierra Leone who give further training, and help increase the production of blacksmiths groups.
One skilled group from north west Tanzania, the Nyamililo Toolmakers, has made several batches of tools for export to Wales. We are now selling these side axes, hand adzes, and draw knives, and all profits go towards further support for the blacksmiths in the region.
"People cannot be developed: they can only develop themselves" Julius Nyerere