About Us
TOOLS FOR SELF RELIANCE groups collect old and unwanted hand tools from all over the UK.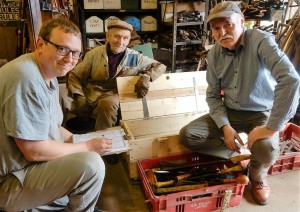 Volunteers clean, repair and sharpen them, and send tool kits to grass roots community groups in several African countries. TFSR CYMRU is a totally independent charity based in Crickhowell in South Wales, and we collect tools from across Wales.
TFSR CYMRU presently concentrates it's efforts in Tanzania where we work with our long-standing partner SIDO – The Small Industries Development Organisation. Together we work towards a more equitable sharing of the world's resources.
There are currently 4 TFSR refurbishing groups in Wales and on the borders: Crickhowel, Llanelli, Clun and Bridgend, plus a network of tool collectors who pass any tools on to us.
Contact
– Crickhowell:  contact(Replace this parenthesis with the @ sign)tfsrcymru.org.uk
– Llanelli:  colin.hill(Replace this parenthesis with the @ sign)tfsrcymru.org.uk
– Clun:  dave.thomlinson(Replace this parenthesis with the @ sign)tfsrcymru.org.uk
– Bridgend:  johnandgaynor(Replace this parenthesis with the @ sign)tfsrcymru.org.uk

– Tool Collectors:  collectors(Replace this parenthesis with the @ sign)tfsrcymru.org.uk
Tools collection point at "Healthy Planet Books For Free Store" Stephens Way, Carmarthen, SA31 2BG. They also sell a lot of our spare bits and bobs for us.
If you want information about TFSR (the national organisation) visit their web site
TFSR Cymru currently have about 70 volunteers, men and women aged 14 to 85. We meet at one of several sessions a week in our workshop, where we repair and renovate hand tools by the thousand. The tools are donated by individuals or collected by a wide variety of other organisations from across Wales – Rotary Clubs, Schools, WI groups, Church groups. We have been very successful at collecting but we still have a shortage of certain items, especially tools for blacksmiths – see How You Can Help Page
Could you work without tools?
In the past 32 years we have sent more than 750 tool kits (each valued at over £1,500) to craftsmen and women in rural communities of Africa. Tools mean work, and the chance to shape their future, just as important to a young person in Tanzania or Ghana today as it is in Britain.
Volunteers are always needed to join us in Crickhowell, or at one of the other TFSR groups in Wales. Men or women of any age – bring along your skills, or come and learn how to handle a hammer. There's always plenty to do. From cleaning and sharpening tools, to making and packing crates. There is always somebody around to show you what needs doing and how to do it.
Money …
The Tools pour in and are being continually shipped overseas, so we also need cash to operate. It still costs us £20 to buy 4 new quality saw files which we include in every carpentry kit for a group of 5 or 6 workers. We are always on the look-out for anvils which cost us around £100 each to send with every blacksmiths kit.
We are also funding our joint SIDO Wales Tools Workshop in Mwanza, so we need money as well as tools. This workshop is employing 4 people and producing more than 200 kits per year for local artisan groups. It now costs us over £5,000 to buy, ship and transport a container to Mwanza.
Tools For Self Reliance Cymru – Registered Charity No: 1055483